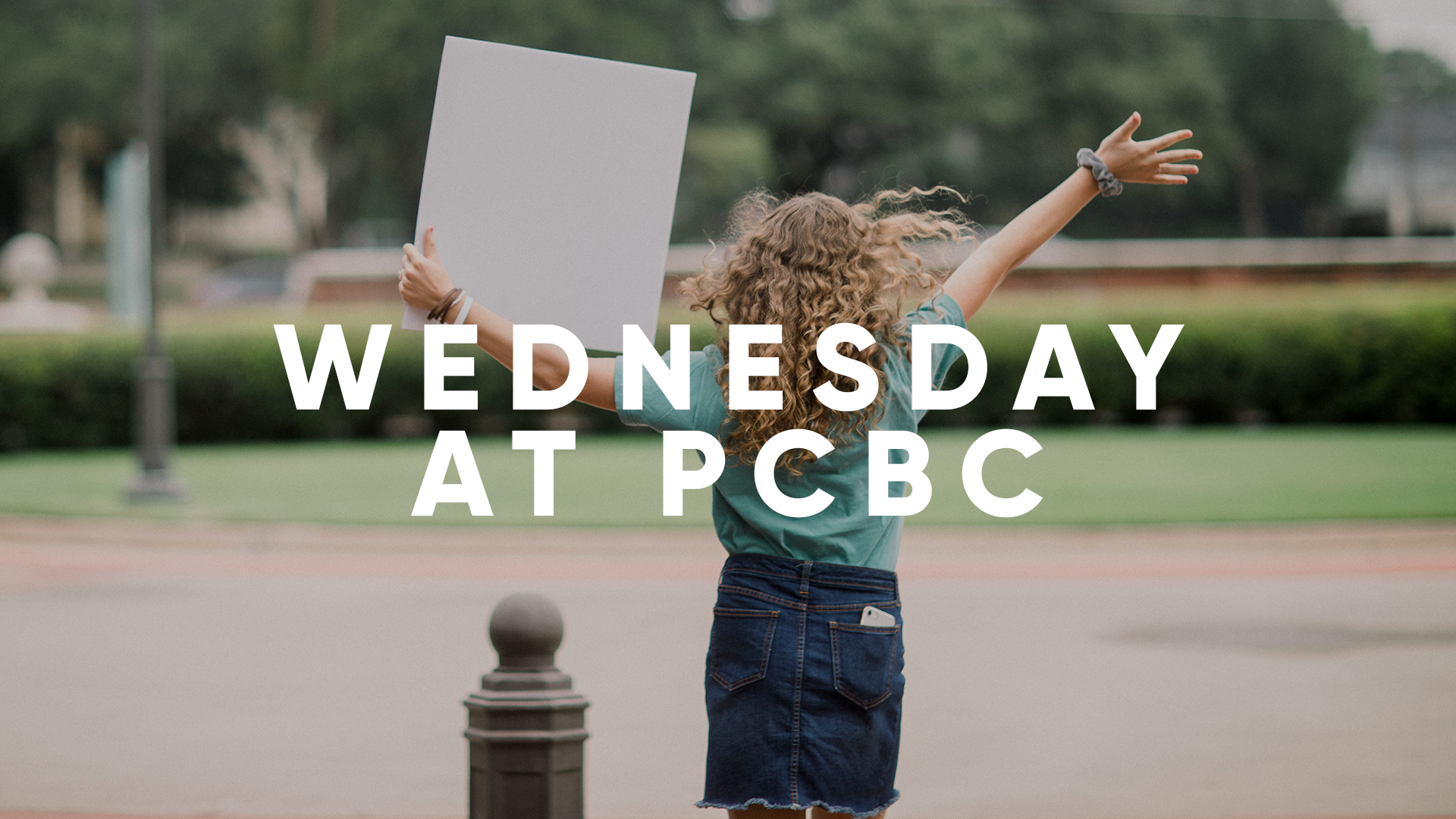 Wednesday at PCBC
Tuesday, October 19, 2021, 5:00 PM
Start dates vary per event! Park Cities is the place to be on Wednesday nights for community, gatherings for kids, students, and adults, growth and enrichment groups – and so much more! See our complete line up here, register your family, and come join us on campus!


PCBC KIDS

For more information on all PCBC Kids activities, email .

Childcare for babies and toddlers during Wednesday evening activities. Begins September 8.
Nursery Childcare and aftercare

Kids Choirs
Join us as we sing praises, learn stories of Jesus, and have fun with music and friends.
Begins September 8
Preschool Age 2-5* (* 2-year-olds must have parent or older adult attending choir with them)
5:30-6:15 p.m.
Grades 1st-6th
5:30-6:25 p.m.
Awana
Awana helps kids love God's Word and hide it in their hearts.
Age 4 (by 9/1/2021) – Kindergarten
Begins September 8
6:15-7:00 p.m. | 3rd Floor Pleitz
REGISTER for awana
1st - 5th Grade Sports Camp
Indoor and outdoor fun and games!
Begins September 8
6:30-7:30 p.m. in the Gym and Villanova lots
REGISTER for sports camp



PCBC STUDENTS

For information about PCBC Students activities, email
CREW
The weekly gathering of PCBC Middle and High School Students for worship, friendship, and discipleship. CREW meets in small groups in homes around Dallas. CREW UNITED meets on certain dates at PCBC. Watch for details!
Begins August 25
7:00 p.m.
Middle School (Grade 6-8), High School (Grade 9-12)
HS Crew Map
MS Crew Map
Register in person at the Crew House.


SPANISH LANGUAGE MINISTRIES

Orientation for Instituto Park Cities (IPC)
El Instituto Park Cities tiene como objetivo entrenar al cristiano con la Palabra de Dios. Estas clases tienen como objetivo el fortalecer el crecimiento y desarrollo de tu vida espiritual por medio del conocimiento bíblico sistemático. Esto te preparara para el desarrollo y ejercicio de tus sus dones, talentos y habilidades para la edificación de la iglesia local y de la comunidad.
August 18
6:30–8:00 p.m.
Fellowship Hall
Instituto Park Cities (IPC)
Clases Semanales
August 25 - November 17
6:15-7:40 p.m.
Reed 102-104
Informacion


STUDIES AND GROUPS FOR ADULTS

Wednesday Lunch

Community, worship and Bible study along with a delicious lunch!
NEW DATE: TBD
11:30 a.m.
Fellowship Hall
Growth & Enrichment Groups (G & E)
Led by The Center at Park Cities
A 30-minute large group time of encouragement and insight, followed by one of two smaller groups (Well Being or Family Support) to help you or a loved one to navigate changes or challenges in life.
September 8 – November 17
6:00-7:30 p.m.
Activities Parlor (2nd Floor Activities Building)
Marriage Core
Led by The Center at Park Cities
Designed to help you rebuild or simply strengthen your marriage by addressing issues and communicating better, whether you're just starting out or have been married for awhile. Cost: $10 per couple.
NEW DATE: September 29 – November 17
Reed 3rd Floor
REGISTER for marriage core
Parenting With Purpose
Led by The Center at Park Cities
6:00-7:00 p.m.
Reed 201
Opening Workshop "The Back-to-School Tool Kit"
September 15
Everything you need to know and do for a successful school year. From rules and routine to understanding and encouraging the mental health of your children, we will share skills and principles for post-pandemic parenting.
Parenting with Purpose Series
September 22 – October 6
Week 1 – The Purpose of Parenting; Week 2 – Kids and Their Well-Being; Week 3 – Discipline, Boundaries and Building Character
For information on G & E Groups, Marriage Core, and Parenting with Purpose, please email .
Register for Parenting with a Purpose
NearlyWed Seminar
The NearlyWed seminar is to equip you with practical ways to love and serve your spouse through all of the joys and challenges ahead. Join us. Invest in your marriage now, before you even say "I do."
September 8 – November 3
Ellis Parlor
6:30 - 8:30 p.m.
Cost: $40 per person
REGISTER for nearlywed seminar
Financial Peace University
Get out of debt and start building your financial future.
NEW: Date TBD
6:30-7:30 p.m.
Reed 203
Fee $60 per family
Register for Financial Peace University
Knowing God
J. I. Packer's Knowing God has become a classic of the Christian faith. It helps us to know Him, build our relationship with Him, and draw us closer to Him in love and worship. This is the essence of prayer. Book and study guide are available online.
Begins September 8
6:30-8:00 p.m.
Lower Level Collins 3
GriefShare
For people grieving the death of a family member or friend. GriefShare is a friendly, caring group of people who will walk alongside you through life's most difficult experience.
September 15 - December 1
3:00-4:30 p.m.
Reed 102
Wednesday Evening Book Club
Join us for discussion of books about faith, life, and culture!
Second Wednesday of the Month
Begins October 13
6:30-8:00 p.m.
PCBC Library
For more information, email
REFIT Movement + Fitness
Start your healthier life now!
Begins September 8
6:00-7:00 p.m.
The Pit (Activities Building)
For more information, email


FOR WOMEN

WOVEN
An invitation to real-life conversations and community for women ages 18 and up. Large group worship in English and Spanish on the first Wednesday of every month at 6:30 p.m. Join a Thread Group that meets twice a month at a time that fits your schedule.
September 1 – December 1 (1st Wednesdays)
6:30-7:30 p.m.
Great Hall
For more information, visit pcbc.org/women.
Women's Evening Bible Study
"The Armor" by Priscila Shirer
Discover the action plan for putting on the armor of God to withstand the invisible wars taking place all around you.
September 22 - November 3
6:00-7:30 p.m.
Lower Level Collins 1-2
Purchase your workbook in bookstores or online for this class.

Register for womens evening bible study



MUSIC

Sanctuary Choir & Orchestra Rehearsal
6:45-8:30 p.m.
Choir - Choral Hall
Orchestra - Sanctuary
Fall is a great time to get involved in our worship ministry! Sanctuary Choir and Orchestra membership is open to all adults 18 and older. No audition required for prospective choir members! Join us at rehearsal and we'll connect you with our welcoming choir family! We sing in the 11:00 traditional service in the Sanctuary every Sunday morning. Questions? Email Jan at .
Prospective orchestra members will need to audition for the orchestra director, Keith Meek, to evaluate placement. Contact Keith at for more information and to set up an audition date and time. Handbell choirs rehearse on Mondays. Contact for information about joining!