What a Year!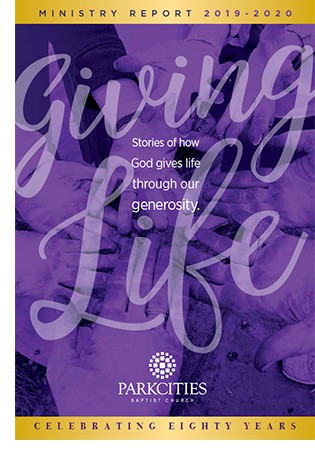 What an amazing year we've shared together as a church family! As we look back on our 2018-19 year of ministry, we can see God has transformed our resources of time and energy, and collective gifts, into change lives. Only He can do that. The Ministry year kicked off with an incredible summer of VBS, mission trips, camps and a walk through the Ten Commandments. During the fall, we celebrated our Happy Church and 40 baptisms outside in front of our Sanctuary to proclaim the grace of Jesus to all around. We journeyed together through Rediscover Park Cities, reconnecting with our mission and values, and casting new priorities for prayer, worship, family ministry and leadership development. Our weekly prayer gatherings have become the "boiler room" of the church and place of power and anointing before each worship service. Our church family sent out mission teams to South Texas, Guatemala, the Caribbean, South Asia, the UK and Africa. Here at home, our partnership with the Vickery community and Jack Lowe Elementary continues to soar. In the New Year we kicked off The Year of the Bible and hundreds are reading through the Bible with the help of the Read Scripture app. Then, over and above our regular giving, we came together to raise over $250,000 to fund Scripture translations for people groups in South Asia who have never seen or held God's Word in their own language!
We often think of inviting Jesus "into our lives," when in reality He is inviting us into His life and what He is doing in the world. We have joined Him and He is breathing life into our church family in miraculous ways. I'm seeing a renewed passion for prayer and His Word, and it is stirring within us an urgency and innovation that are giving life to those who do not know our Savior. This is the focus of our 2019-20 Ministry Report: Giving Life.
An amazing new ministry year now lies before us. Thank you for leading the way through your generosity! God is moving like never before. I am so excited to be on this lifegiving journey with you, as we follow Him every day.
In Him,



Dr. Jeff Warren, Senior Pastor